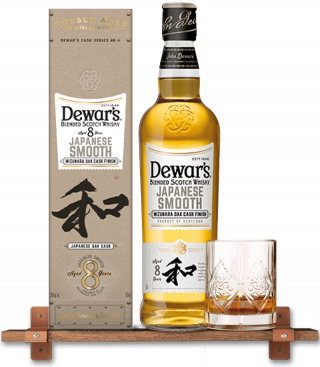 Dewar's brings together Scotland and Japan for an amazing flavour experience highlighting a distinctive and harmonious blend of cinnamon, sandalwood and floral notes. Dewar's Japanese Smooth is an 8-year-old Blended Scotch Whisky finished in Japanese (Mizunara) Oak Casks and is the fourth in an innovative cask series line-up. This rich and full-bodied whisky brings a unique finishing process to the double-aged Dewar's blend, creating an approachable and smooth whisky with an extraordinary difference.
This product can be shipped to:
Cart

The true reflection of the Japanese highball, elegant, chilled and perfectly effervescent with unmistakable honey and a hint of cinnamon spice on the palate and a long and slightly dry finish achieving the balance of harmony just like Japanese culture.
With this highball temperature is key, the colder the drink, the longer we retain the carbonation. Bubbles carry flavour from the bottom to the top so ice is essential!