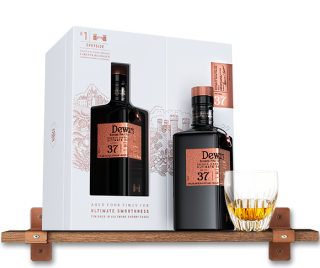 The Limited Edition Dewar's Double Double 37 Year Old is the first in a Collector's Series of four marques honoring the whisky regions of Scotland. It is crafted with our unique 4-stage ageing process and finished in Oloroso sherry casks that once held Aultmore single malt to honor the Speyside region.
The nose has hints of cinnamon, vanilla, and heather honey. Tasting reveals notes of ripe peaches, orange peel, and brown sugar. The finish is smooth, creamy, balanced, and complex. Furthermore, every 375ml bottle of Double Double 37 Year Old is accompanied by two Baccarat Massena crystal tumblers to further elevate your tasting experience into a celebration.
This product can be shipped to:
Cart

Innovation comes in many forms, and in 2019 our Master Blender, Stephanie Macleod, released a new range of Blended Scotch Whiskies with a Four Stage Ageing Process for Ultimate Smoothness. This may sound like an indulgence but the series has been picking up gold medal awards the world over since being released.
We believe that in order to do things right and get the best results you should put in double the effort; everything else is just a job half done. So we asked ourselves how we could put in double the effort to our range that was already Double Aged for Extra Smoothness…and it was obvious..double it!
Our Double Double Series has been aged, blended together, aged again, then finished in sherry casks for the Ultimate Smoothness.