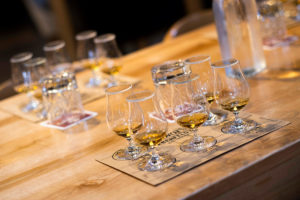 We've got a series of whisky tasting events on-site at Dewar's Aberfeldy Distillery scheduled for the last Thursday of the next few months. Join us in person for an informative, relaxed session of whisky tasting and get the opportunity to sample exclusive, rare whiskies. Scroll down to find out more about the upcoming events we have planned.
Running order of all events:
7.30pm – You will be welcomed warmly into our Whisky Lounge.
7.35pm – You will sit down to a specially created themed tasting, tutored by one of our expert guides (details below).
8.30pm – The event concludes.
Participants are entitled to a ticket holder discount in our distillery shop following the event.
*If you can't make any of these on-site tastings in person, email us at events@dewars.com for a Zoom link to view the tasting from home. Please note, virtual participants must book their space by the Monday before the tasting event so we can get your samples delivered in time.

Please note – when booking your tickets, please ensure you select the exact date the event of your choice lands on.
---
New Royal Brackla Range & Chocolate Tasting
Date: Thursday 30th September
Time: 7:30pm – 8:30pm
Ticket Price: £20 per ticket
Tasting Details:
A very royal evening! Discover our new range of Royal Brackla single malts where each whisky is finished in a different style of sherry cask – Royal Brackla 12 (Oloroso), Royal Brackla 18 (Palo Cortado) and Royal Brackla 21 (Oloroso, Palo Cortado & Pedro Ximenez) and compare how the flavours change as the whisky gets older in the cask.
Whilst tasting these new Royal Brackla drams, we'll be pairing them with single-origin chocolates, produced by local Chocolatier Charlotte Flower, for a fancy decadent experience.
---
Dewar's 8 Cask Finishes Tasting
Date: Thursday 28th October
Time: 7:30pm – 8:30pm
Ticket Price: £20 per ticket
Tasting Details:
Join us to celebrate Dia de los Muertos and our fabulous Dewar's 8 Cask Series, the biggest new product launch from Dewar's for many years and indulge in Dewar's 8 Caribbean Smooth, Dewar's 8 Portuguese Smooth, Dewar's 8 Ilegal Smooth and Dewar's 8 Japanese Smooth.