Whisky and Music Tasting – £20.00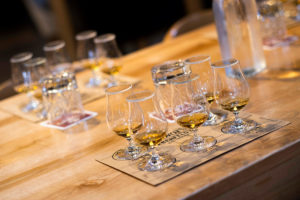 Date: Thursday 26th May
Timings: 7.30pm – 8.30pm
Running order:
7.30pm – You will be welcomed warmly into our Whisky Lounge.
7.35pm – You will sit down to a specially created themed tasting, tutored by one of our expert guides (details below).
8.30pm – The event concludes.
*8.30-9.00pm – Our Whisky Bar will be open with the option to purchase additional drams.
Tasting details:
Enjoy a new way to taste your whiskies and join us for an exciting Whisky and Music tasting. Discover how music can influence the taste of whisky as we introduce sound to the usual aspects of taste and smell for your whisky tasting.
This insightful session will be a sensory exploration and throughout the evening, you will participate in a blind tasting of four different whiskies, both single malts and blends, and explore their deep and varied flavours along with different pieces of music.
Throughout this session, discover how music influences your tasting experience by transporting you to a different place, time or season and record your tasting notes to explore how the music influences your perception of the flavours.
We only have a limited number available so secure your tickets now.
Book your tickets below, on-site at Dewar's Aberfeldy Distillery or by calling 01887 822010.
Participants are entitled to a ticket holder discount in our distillery shop following the event.
Please note – when booking your tickets, please ensure you select the exact date the event of your choice lands on.