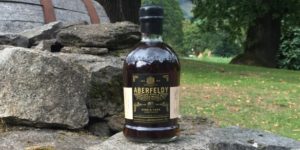 About our single cask Aberfeldy 'self-fill'
Our visitors have the opportunity to purchase a bottle of a unique single cask Aberfeldy, exclusive to the Dewar's Aberfeldy Distillery. Fill and label your own limited edition bottle of Aberfeldy from one of our 'self-fills', each bottle individually numbered. Every cask we open is different, so we never know how many bottles we are going to get, generally dependent on the cask size and type, as well as the age of the whisky, we can expect anywhere from 150 to 600 bottles. And when the last bottle is gone, its unique taste passes into history.
Cask No. 20658 is an ex-Sherry Butt, which gives a rich colour and character compared to an American oak cask. Bottled at 60.6% abv, cask 20658 was laid down in 1999, and was released from the warehouse in August 2018.
Whisky tasting notes
As two casks of Scotch whisky are never quite the same, we never know exactly what aromas and flavours to expect. The tasting notes for our distillery casks are created by our distillery team. Here are the tasting notes for this delicious single cask whisky:
Aromatic, Creamy, Spicy
AROMATIC
Toasted almonds and rich coffee notes and sour cherry.
CREAMY
Rich dark chocolate, hints of black treacle and burnt caramel.
SPICY
Apple and cinnamon sponge with a spicy note of cedar wood.
How to purchase a bottle from this unique Scotch whisky cask
Cask number 20658 is currently retailing at £200 per bottle.
If you like the sound of our latest Aberfeldy single cask, and wish to purchase a bottle for yourself or as a unique gift, just get in touch with us via email on AberfeldyDistillery@Dewars.com.