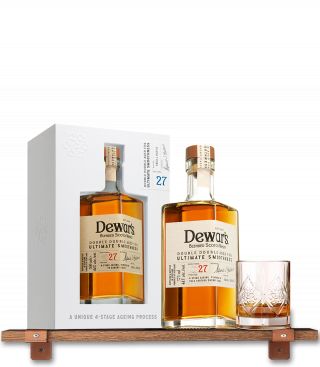 Our unique Four Stage Ageing Process for Ultimate Smoothness finished in Palo Cortado Sherry Casks.
Dewar's Double Double 27-Year-Old is finished in Palo Cortado sherry casks, this blend delivers heady, aromatic, floral notes with honeyed fruits and subtle spice and the characteristic silky smooth finish.

Innovation comes in many forms, and in 2019 our Master Blender, Stephanie Macleod, released a new range of Blended Scotch Whiskies with a Four Stage Ageing Process for Ultimate Smoothness. This may sound like an indulgence but the series has been picking up gold medal awards the world over since being released.
We believe that in order to do things right and get the best results you should put in double the effort; everything else is just a job half done. So we asked ourselves how we could put in double the effort to our range that was already Double Aged for Extra Smoothness…and it was obvious..double it!
Our Double Double Series has been aged, blended together, aged again, then finished in sherry casks for the Ultimate Smoothness.