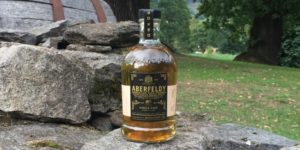 What is our 'self-fill' single cask Scotch whisky?
Our visitors have the opportunity to purchase a bottle of exclusively-matured whisky drawn from a unique single cask. The bottle can be filled by the individual from the barrel onsite, and is labelled for them by our team. Each Scotch whisky cask contains roughly 200 – 600 bottles of whisky, dependent on the size, type and age of the cask. And when the last bottle is gone, its unique taste passes into history.
Cask No. 21371 is an ex-american oak cask, which gives a lighter colour and character compared to sherry or port casks. Bottled at 57.3% abv, cask 21372 was laid down in 2001, and was released from the warehouse in August 2018, with the last bottle being filled on 7th January 2019.
A total of 220 bottles were filled from this cask.
Whisky tasting notes
As two barrels of Scotch whisky are never quite the same, we never know exactly what aromas and flavours each new whisky cask will give us, so each barrel is tasted and described by our team of whisky advisors. Here are the tasting notes for this delicious single cask whisky:
Sweet, Fruity, Spicy
SWEET
Almond butter opening to sweet icing sugar and creamy white chocolate.
FRUITY
Tangy tangerine segments, nectarines and dried pineapple.
SPICY
A whiff of the old warehouse and charred oak in the background.
How to purchase a bottle from this unique Scotch whisky cask
Cask number 21371 is currently sold out, and due to the nature of oak casks, each single cask bottling has its own unique character and flavour.