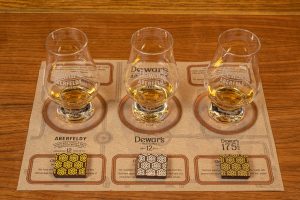 JOIN US FOR OUR AWARD-WINNING TOUR PLUS A LUXURY WHISKY AND CHOCOLATE TASTING TRAY 
Our Whisky and Chocolate Tasting Tour includes our full Aberfeldy Distillery experience, but instead of culminating in a double whisky tasting, you will enjoy a whisky and chocolate tasting tray of 3 fine Scotch whiskies from our range. Each whisky is expertly matched with an artisan single origin dark chocolate for a luxurious whisky and chocolate tasting experience.
WHAT'S INCLUDED IN THE WHISKY & CHOCOLATE TASTING TOUR?
Distillery and warehouse tour
Self guided Heritage Exhibition experience
A whisky tasting mat of 3 x 15ml samples (over 18s only)
3 single origin dark chocolates
"A match made in heaven . Our guide for this was excellent. Everyone was so helpful, we had a truly enjoyable and relaxing time. Definitely recommend this extra special treat" – TripAdvisor
Duration: 1.5 hours
The Whiskies:
Enjoy a comparative whisky and chocolate tasting tray in our whisky lounge following your tour featuring 15ml samples of Aberfeldy 12 Year Old Single Malt Whisky, our premium Dewar's 12 Year Old Blended Scotch, and our limited edition anniversary bottling of Dewar's – Dewar's 175 Blend, each paired by our Master Blender, Stephanie Macleod, to a unique single origin dark chocolate.
The Chocolate:
Our chocolates are handmade in the nearby village of Acharn, just 6 miles from our distillery, by local chocolatier Charlotte Flower. Charlotte has worked hard for us to source some of the finest chocolates from around the world. The final selection was made by our Master Blender, Stephanie Macleod, [Master Blender of the Year for the third year running] who hand-selected each chocolate to enhance the enjoyment of the whiskies she creates. The honeyed-richness of Aberfeldy and the smoothness of the double-aged Dewar's blends make them the perfect companions to fine artisan chocolate – this is a whisky and chocolate tasting experience not to be missed.
Please note: The Whisky and Chocolate Tasting Tour is unsuitable for drivers. If you are driving, please choose the Cask Tasting tour, where we can provide you with a driver's pack. As a working distillery, visitors must wear sensible footwear on the distillery tour (no high heels or open toed shoes permitted). Unfortunately, dogs (except assistance dogs) are not permitted in the visitor centre or distillery.
Want to give someone a tour of Dewar's Aberfeldy Distillery as a gift but don't know the date/time of visit? Order one of our beautifully presented gift cards.