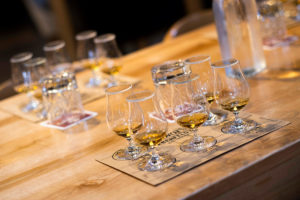 Date: Thursday 30th September
Timings: 7.30pm – 8.30pm
Running order:
7.30pm – You will be welcomed warmly into our Whisky Lounge.
7.35pm – You will sit down to a specially created themed tasting, tutored by one of our expert guides (details below).
8.30pm – The event concludes.
Tasting details:
A very royal evening! Discover our new range of Royal Brackla single malts – Royal Brackla 12 (Oloroso), Royal Brackla 18 (Palo Cortado) and Royal Brackla 21 (Oloroso, Palo Cortado & Pedro Ximenez) and compare how the flavours change as the whisky gets older in the cask.
Join us on 30th September for an insightful session of whisky chat as we dissect the tasting notes of Royal Brackla's revamped range, each finished in different ex-Sherry casks with different flavour profiles, with a focus on matching the finest Sherry casks from Spain with the richness and grace of Royal Brackla's spirit. These drams have a new look and feel and this whisky tasting event is the perfect opportunity to try this new range.
Whilst tasting these new Royal Brackla drams, we'll be pairing them with single-origin chocolates, produced by local Chocolatier Charlotte Flower, for a fancy decadent experience.
Find out more about the chocolates you'll be tasting:
Chocolate 1 – Ben Tre, Vietnam 78% (Asian)

This chocolate is produced by the Marou company and comes from the Ben Tre region in southern Vietnam. This is a 78% plain chocolate meaning that 78% of what has gone into it is from the Cacao plant (the remaining 22% will be sugar etc.)

Chocolate 2 – Ocumare, Venezuela 72% (South American)

This chocolate is produced by Duffy Sheardown and is made from the rare 'criollo' beans, grown in the Ocumare valley, Venezuela. It is 72% plain chocolate.

Chocolate 3 – Virunga, DR Congo, 70% (Africa)

The final chocolate is produced by the Original Beans company, with beans being sourced from the Virunga National Park in the Democratic Republic of Congo. Original beans are a charitable organisation with a focus on preserving the Virunga National Park and the endangered Mountain Gorilla population that lives there. For every bar of chocolate they sell they plant a tree – they have now plant in excess of 1.5 million trees.
We only have a limited number available so secure your tickets now.
Book your tickets below, on-site at Dewar's Aberfeldy Distillery or by calling 01887 822010.
Participants are entitled to a ticket holder discount in our distillery shop following the event.
*If you can't make any of these on-site tastings in person, email us at events@dewars.com for a Zoom link to view the tasting from home. Please note, virtual participants must book their space by Monday 27th September so we can get your samples delivered in time.
Please note – when booking your tickets, please ensure you select the exact date the event of your choice lands on.