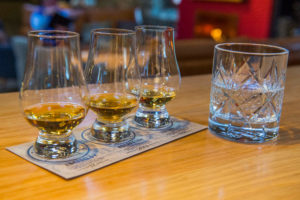 Date: Thursday 29th July
Timings: 7.30pm – 8.30pm
Running order:
7.30pm – You will be welcomed warmly into our Whisky Lounge.
7.35pm – You will sit down to a specially created themed tasting, tutored by one of our expert guides (details below).
8.30pm – The event concludes.
Tasting details:
Join us at Dewar's Aberfeldy Distillery on 29th July at 7.30pm for an unforgettable tasting as we celebrate the 175th anniversary of Dewar's with the launch of our limited-edition 175 year anniversary bottling. During this hour-long session, we will be kicking off proceedings with a dram of the special Dewar's 175 before moving on to our Dewar's 12 Year Old, one of the world's most popular and awarded whiskies, and finishing the session with one of the oldest and rarest blended Scotches within the Dewar's portfolio – our Dewar's 25 Year Old 'Signature' Blend. Throughout this session, we will also be sharing tasting notes and tales from the last 175 years.
Help us celebrate this special occasion and sample some of the finest blends in the world.
This tasting event is the perfect opportunity to try our exclusive limited-edition 175 year anniversary bottling which is due to sell out very soon.
We only have a limited number available so secure your tickets now and don't miss this exceptional evening of whisky tasting.
Book your tickets below, on-site at Dewar's Aberfeldy Distillery or by calling 01887 822010.
Participants are entitled to a ticket holder discount in our distillery shop following the event.
*If you can't make any of these on-site tastings in person, email us at events@dewars.com for a Zoom link to view the tasting from home. Please note, virtual participants must book their space by Monday 26th July so we can get your samples delivered in time.
Please note – when booking your tickets, please ensure you select the exact date the event of your choice lands on.