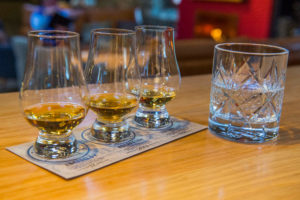 Date: Thursday 26th August
Timings: 7.30pm – 8.30pm
Running order:
7.30pm – You will be welcomed warmly into our Whisky Lounge.
7.35pm – You will sit down to a specially created themed tasting, tutored by one of our expert guides (details below).
8.30pm – The event concludes.
Tasting details:
For the third whisky tasting event in the series, it's all about the dram at the heart of all of Dewar's blends with our Aberfeldy Cask Finishes Tasting. Visit Dewar's Aberfeldy Distillery on 26th August at 7.30pm for an unmissable tasting as we celebrate the launch of a mystery arrival Aberfeldy dram that we can't announce just yet! During this hour-long session, you'll get to sample this limited-edition mystery dram and compare with our Aberfeldy 18 Year Old from 2020, finished in Paulliac red wine casks, and end with our Aberfeldy 15 year old, finished in Pomerol Red Wine casks. If you're a fan of the 'Golden Dram', this event is a must-attend!
We only have a limited number available so secure your tickets now.
Book your tickets below, on-site at Dewar's Aberfeldy Distillery or by calling 01887 822010.
Participants are entitled to a ticket holder discount in our distillery shop following the event.
*If you can't make any of these on-site tastings in person, email us at events@dewars.com for a Zoom link to view the tasting from home. Please note, virtual participants must book their space by Monday 23rd August so we can get your samples delivered in time.
Please note – when booking your tickets, please ensure you select the exact date the event of your choice lands on.